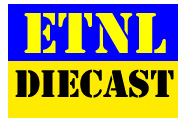 Please note! The models shown on this website are not for sale; these are for reference purposes only. Check ETNL-diecast.com for Triumph models on offer.
TRGROUP
The list of Triumph models has been grouped per model range. Click the appropriate link on the left hand border to find the model of your choice.
It is also possible to go straight to the manufacturer of a model to see all the Triumphs model produced by this manufacturer. In that case click on the Manufacturer link in the top border
.